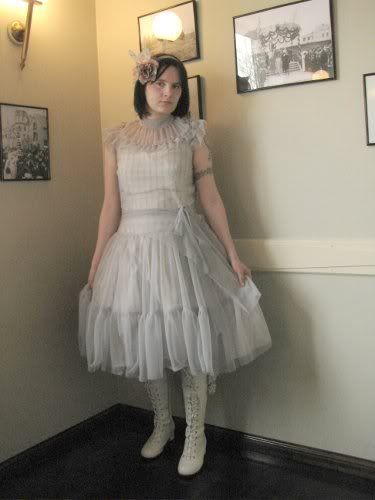 Fate was telling me I couldn't have Fairy Chiffon Doll OP so I cried and then started making a replica. Only it didn't turn out to be very good as replicas go, since I made so many changes in it, but even so I like the end result! All photos taken at Fru Berglaug, one of the cutest cafes on Laugavegur in downtown Reykjavík. I recommend everything on their menu.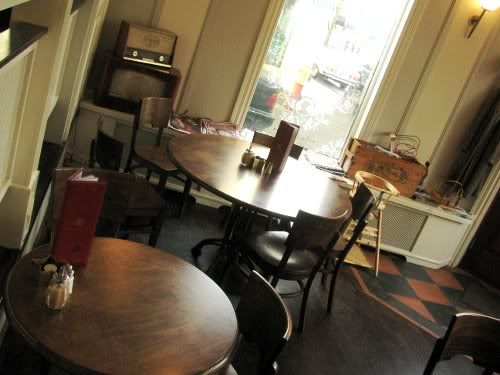 Very cute indeed.
A detail shot. Outfit consists of:
Chiffon dress: selfmade.
Stripy dress underneath: selfmade.
Headpiece: lol lol lol lol lol ok selfmade... sort of.
Socks: Hagkaup no doubt.
Boots: Bodyline.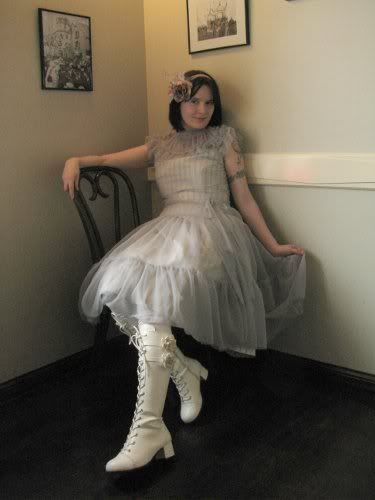 The boots deserve some showing off. I originally bought them on a whim and haven't once regretted that. They're pretty, fit me well (Bodyline shoes' sizes are very accurate) although even one centimetre more for my calf circumference and they wouldn't, and the roses are fastened with clips so you can add or remove as you please. They're nearly 100% weatherproof too as was proven today when I forgot to check the weather forecast before heading out... and it was a helvitis fokking hurricane outside o' course. I walked through countless puddles but never once got my socks wet.
A closer look at the collar.